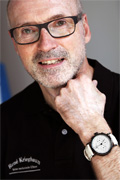 Welcome
A watch for watch lovers made by a watch enthusiast: the name may not be important, but the watch certainly is as traditional manual techniques are used to create something that is special and highly distinctive. With a watch movement represents the pinnacle of mechanical chronograph manufacturing that for many collectors: the column wheel calibre Valjoux 72 and Valjoux 724 (with gear train and balance for 18000 A/h). ....everything looks a little different, but it still brings back memories..... The watch design is reminiscent of old measuring instruments and unlike the usual appearance of a wristwatch on account of the bezel, which stands out from the cover glass, the crown, and the type of fluting in the middle of the case. The clarity and minimalism of the dial complement the sleek bezel and complete the desired effect of a (time-) measuring instrument.
Even the movement, with its gilt (or rhodium) plating, flat polish, chamfering and hand engraving gives it a beautiful appearance that is quite out of the ordinary with a stripe finish and perlage. I borrowed this from beautiful old pocket watches. The fine finishing of the movement is done entirely by hand and makes every watch a single piece. All the watch components are either specially made for René Kriegbaum or finished (no ready-made cases or hands, etc.). Overall an exclusive and extremely rare watch made by professionals. Despite the huge outlay, I'm offering the watch at an excellent price/quality ratio. You will therefore understand that the prices quoted are fixed, but calculated to your advantage. An advance payment is required when ordering the watch (see order form). As soon as I receive the deposit, the movement will be finished according to your requirements and the watch completed (depending on the order in around 4-5 months - normally 4 months). Once the balance has been transferred (an escrow service is available for this) the watch will be delivered to you in a beautiful piano black wooden casket. Transportation in Germany is free. You have 14 days to return the watch (except custom orders). The watch is guaranteed for 2 years. See also Terms and Conditions. The watch may be viewed by appointment and away from the premises as no watches or cash are stored on the premises for reasons of safety. As the watch is only produced in small quantities, we advise that you do not delay your decision to purchase for too long! Because otherwise your dream watch may no longer be available. You can find further details, information, 'Background', and especially photos, in each of the individual sections!



"The average gives the world its existence, the extraordinary its value"
Oscar Wilde